Welcome to the Galaxite MCBE Wiki!
Galaxite is a featured Bedrock Edition Minecraft Server, made by Blockception.
Players can choose between 8 minigames to play; Core Wars, Prop Hunt, Fill The Gaps, Chronos, Hyper Racers, Rush, Playground, and Parkour Builders. Play with friends, earn Achievements
and try and get onto the leaderboards! Galaxite has a small but friendly player base on Minecraft Bedrock Edition.
This page is being managed by the Galaxite Wiki Team. If you have any questions, please contact us on our Discord.
Please read our wiki rules before making any edits to this wiki. All edits will be monitored and any inappropriate or troll edits will be removed and the user will be banned.
News
Minigames
Choose a game to view!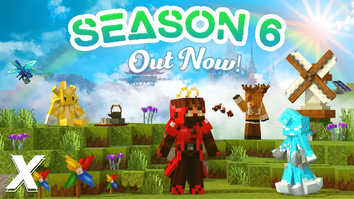 Season 6 has just released with an eighth minigame; Parkour Builders! Explore the brand-new Main Hub with a new parkour, City Roof Spectacle! And speaking of parkour; build and play other people's parkours and unlock vanity items like jump pads and themes to spice up your parkour in Parkour Builders!
Galaxite wants YOUR help on a name for the new Main Hub! If you have any ideas for a hub name, leave them in the #suggestions channel in the Discord.
Seach anything on the Galaxite Wiki!